Gold for British Showjumping's Team NAF Young Riders © BritishShowjumping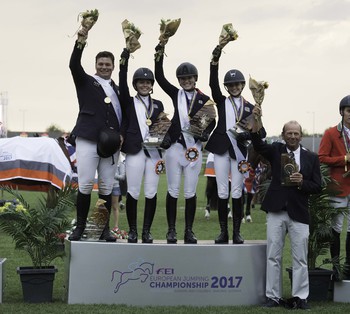 It was yet another team medal for Great Britain when the Young Riders, who compete under the title sponsor banner of Team NAF, secured Gold at the Children, Junior and Young Rider Championships in Samorin, Slovakia this evening. This followed the Team Gold achieved by the Children's team yesterday and Team Silver by the Junior team earlier today.
The team of four Young Riders, who were under the guidance of Chef d'Equipe Tony Newbery, put in some sterling performances to secure pole position on the podium relegating Belgium and Italy into Silver and Bronze place respectively. The course which was both a tough and technical one had seen very few clear rounds achieved at the halfway stage with only four of the combinations competing across the seventeen teams managing to return home on zero penalties.
Jake Saywell, aged 20 from Newark, Nottinghamshire with Havinia van de Roshoeve, a 10 year-old grey mare owned by Rachel Gascoine was the first to go for the team. Their superb first round clear set the team off on a great start and their performance was all the more impressive when he produced a matching clear in the second to become the only rider in the entire competition to deliver a double clear.
Emily Moffitt, aged 19, based between Great Britain and the USA, with Hilfiger van de Olmenhoeve, a 10 year-old bay gelding owned by Poden Farms delivered two firm performances to finish on 4 penalties in each. Trained by Ben Maher, Emily was making her first appearance on a youth championship team having posted some good results internationally and on senior team duty since her change to British nationality earlier this year.
Amy Inglis, aged 20, from Haywards Heath, West Sussex with Wishes, a British bred 9 year-old chestnut mare owned by Claire Inglis was one of the only eleven competitors including Jake to post a zero penalty score in the second round. This followed her 4 penalty first round on the talented mare which she has been producing slowly with international performance in mind.
Team anchor, Millie Allen, aged 19 years from Stockton-on-Tees, Cleveland on Udo Oppermann's 12 year-old bay stallion Balou Star became the dropscore in Round 1 when a pole down just outside the time allowed saw them finish on 5 penalties. Their second round saw them leave all obstacles standing but it was a fraction over the time allowed again when they broke the finish line to pick up a time penalty. Millie, who has been a mainstay on youth teams since 2010 has now won a total of eleven youth medals making her the most successful youth European championship rider the sport has seen, a title made all the more impressive considering she is still in her teens.
This brings an end to the Team competitions at the Championships and all are now focussed on the Individual medals at stake. The Young Riders will compete for their medals on Sunday alongside the Junior riders whilst the Children will be competing tomorrow. Jake Saywell, sits at the top of the Individual leaderboard going into the final stages in 1st position on just 2.4 penalties with more than a penalty in hand over Justine Tebbel (GER) who sits in 2nd place  Millie Allen, Amy Inglis, Leonie Aitkenhead and Emily Moffitt sit in 8th – 11th place respectively putting Great Britain in an extremely strong position for the final leg.